Vicious by L J Shen
Personal Thoughts:
Today I wanted to read a "bad boy romance" and in my TBR pile I found "Vicious".
All my lovely GR friends gave this book 4/5 stars.
This is probably the first time I disagree with every GR friend and reviewer I follow.
Everyone.
Mine is the only disappointed low rating!
Well there's a first for everything…XD
Girls, if you're reading this, just be warned…I didn't like this book, at all
**RANTING AHEAD **
Horrible hero, doormat heroine and the plot…
Love&Hate?
Really "Vic"?
You "Love/Hate" her SO MUCH you treat her like shit then wait for your best friend to take her virginity and since you can't stand that… you force her to leave her family behind and never come back.


– 10 years later…They meet again –
Now, any sensible woman with a little self respect would AT LEAST stay away from him.
But not our sweet/perfect Emilia.
Vic is soooo handsome that he's engraved on her skin…for always.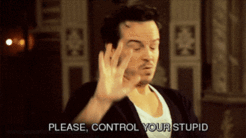 He's vicious but you…you girl are completely SPINELESS
OBVIOUSLY she does whatever he wants.
The ending?
HAPPY EVER AFTER…of course!


If this story was entirely set in high school it might have been slightly more credible, but 10 years later?
Acting the same way you did in high school, with the same girl, for the same weak reasons?
This couple's Love/Hate relashionship was, in my opinion, just ridiculous.
If the "hero" of a story is a certified vicious asshole I NEED him to have some kind of growth as the story progresses.
He has to make up for his "assholery" SOMEHOW.
Even if there are good reasons, like violence and abuse, for his behavior.
Reading a whole book about a "vicious" bad "boy" pissing all over "his girl", treating her like his property, like she's just trash or both…it's not for me.

*Side note: The hero's name evolves more than he does.
From "Baron" to "Vicious" that after highschool graduates to "Vic".
Such a deep and charming man…he's not.
⭐ 1 Star ⭐
Triggers:
Violence and Abuse
Recommended to:
Wouldn't recommend it but lots of Adult Romance Readers loved it…
❤❤ Are you looking for a specific mix of ingredients for your next read?
FIND YOUR BOOK MATCH HERE!