The Taming by Aleen Malcolm
My Review:
Alex is a 25 year old man that finds himself saddled with a 15 years old wild girl, Cameron, that had to grow up on her own without much help from her guardian.
While Alex represents the new generation of Scots chosing to bend the knee to the english crown setting aside their nationalistic pride, Cameron has only known the way of living of an old warrior full of hatred for England and still clinging to what remains of that scottish pride.
She's mostly survived on her own, with her loyal dog Torquil at her side and Alex scares her because he tries to force her away from the only life she has always known.
Little by little she overcomes her fears and discovers she's actually attracted to him…
At the beginning, Alex tries to keep his distance because she's his responsability and she's so young.
Soon there's intimacy between them and Cameron is eager to explore her sexuality while Alex is still unsure about bedding her.
She wasn't sure, but her young thrusting body knew.
Alex longed to penetrate and explode inside her, but he feared for her youth and knew he'd not be able to face her or himself if he did. He fought for control as he told himself that in less than two days they would be home and Fiona would be available to him.
I didn't like that he thinks about his mistress Fiona while in bed with the heroine, Nor did I enjoy their interactions when she acts sex-crazed and he rejects her:
Alex lay back, seduced by her hands as she gently touched the tip, sighing with excitement. Then coming to his senses he firmly removed her hands and, picking her up, deposited her in the cold tub of water.
Cameron sat, too shocked to speak, as he pulled on his breeches, muttering to himself about how he should be the one cooling off in the tepid water. Cameron gave out a loud scream of rage and beat at the foam that still floated on top, splashing the water all over the floor as a flood of abuse poured out of her mouth.
He also ends up being a jerk to her, even if he knows well she raised herself with no guidance whatsoever!
"Doesn't even know her own name! Doesn't know how old she is! Doesn't even know her parentage! Or what a birthday is! Acts like a bitch in heat! There she is, everybody, my wife. Lady Sinclair. Has no table manners, talks with her mouth full of food, oh, but she can swear like any barroom trollop and throw a knife better than any cutthroat scum."
Cameron tried to block the cruel stream of words and tried desperately to prove him wrong by dressing herself.
"Need help, Lady Sinclair?" he asked mockingly.
He's so awful to her I wanted to strangle him!!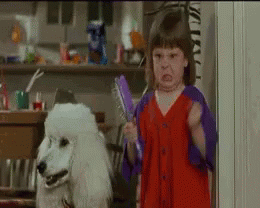 Cameron has never known affection and love and it doesn't take much to realize that's why, when Alex tries to protect her, her feelings are amplified!
She stepped out to be embraced by the fire-warmed towel Alex held. She stood in front of the fire like a docile obedient child as Alex dried her hair and body with the coarse towel. Never before had she felt so safe. There had never been tender mother's hands for her and, without her understanding why, Alex's ministrations fed a hunger that Cameron didn't know she had.
The writing wasn't bad, I just wasn't into the plot and I had too many issues with the romance to keep on reading.
DNF at 28% but I read further on bits and pieces that made me even angrier about this story.
The supposed "hero" decides it's a good idea to "turn off" the affection he's developing for Cameron by screwing around even if he's already married to her while she tries her best to change herself into a proper Lady to get his attention back.
A cheating and stupid asshole, a doormat child-bride, a crazy mistress… NOPE!
⭐ 1 Stars ⭐
~ My Ratings ~
Writing: —
Plot:  —
Hero: —
Heroine: —
Secondary Characters: —
MC's chemistry: —
Steam: —
Triggers: Hero is attracted to underage heroine (but in the '700 -'800 it was normal for a 14 years old girl to marry a 25-30 years old man often much older than that), hero cheats on her after marriage (not properly consumated ) with OWs and an official mistress, OW drama.
❤❤ Are you looking for a specific mix of ingredients for your next read?
FIND YOUR BOOK MATCH HERE!