All I Ever Wanted by Kristan Higgins
Plot:
Calliope Grey's dream man's name is Mark.
She's known him all her life and he's the first boy she ever kissed.
He's also her boss and her professional skills are one of the main reasons for his advertising agency's success.
After a five-week fling, he tells her he's not ready for commitment because, you know, "bad timing".
Things change when, months later, Callie learns that Mark is ready to commit…to someone else.
Fortunately there's a new sexy veterinarian in town: Ian McFarland.
Unfortunately charming him into a date in order to get Mark's attention doesn't exactly work as planned.
Ian isn't charmed, at all.
Or so it seems…
Personal Thoughts:
"I don't get it, guys, I continued. I'd want to date me. Why is it so hard for me? I'm wicked fun, I dress nicely, I'm friendly… I'd love to date me. Wouldn't you?"
An outgoing woman with a crazy crush on the wrong person and an introverted man that prefers animals over humans.
A 30th funeral home birthday party, a grandfather/roommate without a filter, crazy siblings and family drama…
I absolutely loved listening to this story.
The only thing that truly bothered me about this book was Callie's divorced parents situation.
Both parents drag their children into the mess that is their relationship.
Her father cheated on her mother and she asked for a divorce when Callie was very young.
Their drama is part of Callie's story and quotes like the one below are the reason why I did not round my rating up to 5 stars:
[..]you stopped loving me. I don't know when, but you did, and no matter how hard I tried, I couldn't make you love me again, and yes, I had three one-night stands, and I'm sorry, I'm so, so sorry, and I'm so damn tired of being sorry." My father's face crumpled. "I wanted to be needed. I wanted to be appreciated, and I was an idiot, and I'd take it back if I could, I'd cut out my heart if it would make you forgive me, but for Christ's sake, Eleanor, it didn't happen in a vacuum."
He feels unappreciated and neglected hence he cheats on his pregnant wife.
Seriously!?!
I'll refrain myself from starting a rant on the absurd message the man is delivering.
I enjoyed everything else so…I'll just try very hard to forget that part.
Moving on, this book has witty humor all over!
Callie and Ian's banters made me LOL all the way through…
"Do you like hauling women off to your lair, Ian?" I asked above the rush of the rain. "Makes you feel manly, does it?"
"Makes me feel hernia, anyway," he said, trying not to smile. Or grunt, perhaps. "And I'm carrying you to the lobby. Not necessarily my lair."
"Drat," I said.
He laughed. I melted.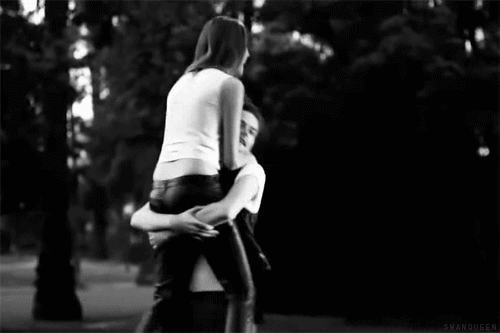 …even in their most romantic moments!
My heart gave a nearly painful squeeze. Standing on tiptoe, I kissed his cheek. "I like you, Ian McFarland," I said.
His eyes crinkled a little. "I hope so."
"And you like me, too, of course," I prodded.
"Yes," he agreed. "You're fun to look at."
"Like a circus monkey?"
"Exactly."
At first, Callie's obsession with Mark made me mad because he's an asshole that keeps on using her while she waits for the day he'll finally love her back.
I truly thought I was never going to give this book a high rating because of it.
I was wrong.
Her journey is very relatable, she becomes aware of the situation and she breaks free of his emotional hold on her.
She finds real love unexpectedly but she also finds her independence and strength.
I truly loved her journey and mine while reading this book.
I laughed hard, cried and fell in love alongside her.
⭐ 4.5 stars ⭐
~ My Ratings ~
Writing: 4.5 /5 I listened to the audiobook
Plot: 4 /5
Hero: 4.5 /5 Cold exterior, heart of gold. Likes pets more than humans 🙂
Heroine: 4.5 /5 Outgoing and charming.
Secondary Characters: 4.5 /5 ( I loved Callie's roommate/grumpy grandfather Noah, her siblings, bff and people from the retirement home she volunteers at – didn't like heroine's parents and their "divorce drama")
MC's chemistry: 3.5 /5
Steam: 2.5 /5  it's a Slow burn Romance and Sex scenes are glossed over.
Triggers: Secondary Character's death, heroine starts as a pushover foolishly in love with the wrong man but she grows out of it, intimacy with said wrong man is mentioned but not in details, family drama.
Recommended to: Contemporary Romance Readers looking for a meaningful and fun journey and "Opposites Attract" MC.

All I Ever Wanted by Kristan Higgins
❤❤ Are you looking for a specific mix of ingredients for your next read?
FIND YOUR BOOK MATCH HERE!